First Baldwin Insurance Hurricane Harvey Relief Mission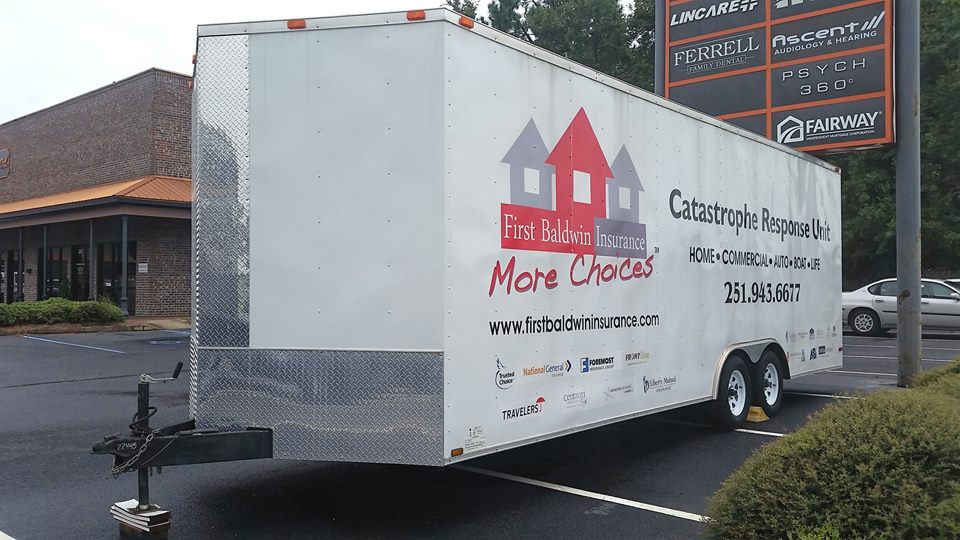 As you well know, flooding caused by Hurricane Harvey has devastated countless individuals and families living in and around the Texas Gulf Coast. Our customers, employees and management at First Baldwin Insurance know all too well the pain, devastation and challenges our neighbors in Texas face, as Hurricane Ivan and Hurricane Katrina remain fresh on our minds.
While the federal government, local governments and many nonprofits are currently working to address basic needs of families that have been displaced, we at First Baldwin Insurance know there is something we can do to help—but we need your help too.
Please consider donating to help us achieve our mission of delivering a full trailer-load of essential supplies to those affected by Hurricane Harvey. We'll be working over the next two weeks to fill our 24' enclosed First Baldwin Insurance catastrophe trailer and deliver it to the Houston area. Your generous donation will be used to purchase much-needed items, such as bottled water, diapers, towels, blankets, toiletries, pillows and individually packaged food.
Your donation is greatly appreciated and will be used to help provide basic necessities for many displaced families. Please make your donation payable to: First Baldwin Insurance Hurricane Harvey Fund and mail to our office at: 8154 Hwy. 59, Suite 201, Foley, AL 36535. If you prefer, we are also accepting donations for the following items:
Bottled water
Flashlights
Batteries
Cleaning products
Bleach
Masks
Heavy duty gloves
Trash bags
Paper towels
Buckets
Mosquito spray
Diapers
Wipes
Baby food
Baby formula
Canned meat
Hygiene items (soap, toothpaste)
Boost drinks
Pet food
Aspirin
Motrin
Band-Aids
Antibiotic cream
Individually packaged food
Thank you in advance for helping us stand strong with our Gulf Coast neighbors in Texas.
Sincerely,
Jeff Powell
President
P.S. If you prefer that your donation stay private – this is fine, just mark PRIVATE at the bottom of your check. Otherwise, we'd like to recognize you and your company for your generosity and kindness.