Stephen Marlow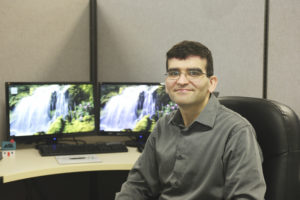 Stephen Marlow – Administrative Technician
Stephen displays a fascination for computers, systems and technology that goes far beyond his job description. An avid programmer and reader, he never misses an opportunity to learn something new every day, and uses his experience to help keep First Baldwin Insurance ahead of the technological curve.
Stephen studied computers and English for three years at Faulkner State Community College, and has since continued to acquire knowledge of five operating systems, three CPU architectures and nine programming languages. He currently has four years of combined professional experience.
Also an accomplished musician, Stephen plays horn and piano for his church band. He also writes and draws, the former of which has garnered awards and accolades in the community. He is working to publish his very first novel, as well as writing his second.
Stephen, his wife and daughter live a quiet life in Robertsdale, Alabama. Though he enjoys being in the center of coastal life and activity, he's usually found spending quality time with his family or absorbing a good book.