Juliana Krewson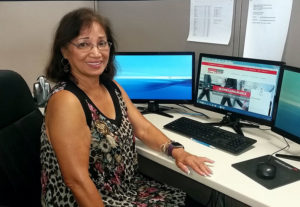 Juliana Krewson – Administrative Technician
With more than 40 years of office administrative and managerial experiences, Juliana Krewson provides support to First Baldwin Insurance and its respective clients. Hers is the friendly voice that answers the phone and the first smile clients and staff see when they walk in the door. Juliana's goal is to ensure the highest level of customer service and satisfaction
Juliana, originally from Kona, Hawaii, moved to San Diego, CA before making her way to the Gulf Coast. She earned a B.S. in Business Administration from the University of Phoenix, and she is currently working on her master's degree.
Volunteering and mentoring is a way of life for Juliana. She managed a traveling girls softball team with the Dynasty Organization in California for four years. In 1990, she took a Cinderella team to No. 8 in the Top 10 in the United States, which allowed team members to get college scholarships for continuing education. She also worked with at-risk teens at the California Life Center for five years, and she is currently a member of the Wonderful Wacky Women of Perdido Key, FL to raise awareness of ovarian cancer.
Juliana resides in Orange Beach with her spouse, John, a 30-year charter captain with MS Sally Charters out of Orange Beach Marina, daughter Ariane, dog RajJah and cat Big Boy. In her spare time, she can be found walking RajJah, their 10-year-old rescue dog, playing with cat Big Boy, working in the garden, shopping with her daughter, or enjoying dinner with family and friends.