Gerry Springer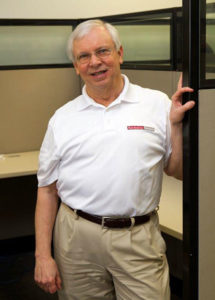 Gerry Springer – Agent
email | ph: 251-943-6680
Gerry Springer has more than forty years of leadership experience building financial solutions for clients in the Insurance, Investment, and Mortgage arena.  Gerry started his financial career during college as a Life and Health Agent for American General and AFLAC.  Then after a 23-year career in the U.S. Air Force as a fighter pilot and test pilot, he served military families as a financial planner helping shape their insurance, savings, and investment programs as an Agent and Registered Representative for First Command Financial Services. Gerry puts his comprehensive financial skills to work finding the most appropriate and cost effective property and casualty insurance for families and businesses living and working on the Gulf Coast.
Through First Baldwin Insurance, Gerry can offer a myriad of products from a multitude of admitted and surplus lines carriers to structure an insurance package to exactly match the needs of the client.  Whether he is working with an individual, a company, or another financial professional, relationships are in place to satisfy any scenario.  Having been on the client side, moving around the world purchasing property and insurance for forty years, Gerry has personally seen many of the worst financial practices.  Those experiences motivate him to operate with integrity and with the client's best interest as a primary goal.  With that philosophy of business, his desire is to keep satisfied clients as future clients and build a referral based business.
In view of the notable growth in the affordable housing, second home, and investment markets along the Gulf Coast and the recent period of retrenchment, Gerry can offer effective insurance program strategies for individuals that meet their needs and their budget.  He can provide group presentations, individual consultations, and brochures with varied insurance scenarios.  His ability to analyze the needs of a business and accurately portray the characteristics of that business to a prospective carrier has saved many dollars for Gulf Coast companies.
Gerry Springer's experience and enviable record of success point to a satisfying relationship with any new client.  His ability to quickly assess a client's situation, diagnose need, and identify and honor sensibilities; then construct an accurate application and shepherd it through the underwriting process to an issued policy always results in a profitable experience for the buyer and provider.
Gerry received his B.S. in Industrial Management from Georgia Tech.  He additionally has a M.S. in Management and a B.A. in Accounting.  He and his wife currently live in Gulf Shores, AL.  He has three adult children.