Golf Carts: Street Legal and Beyond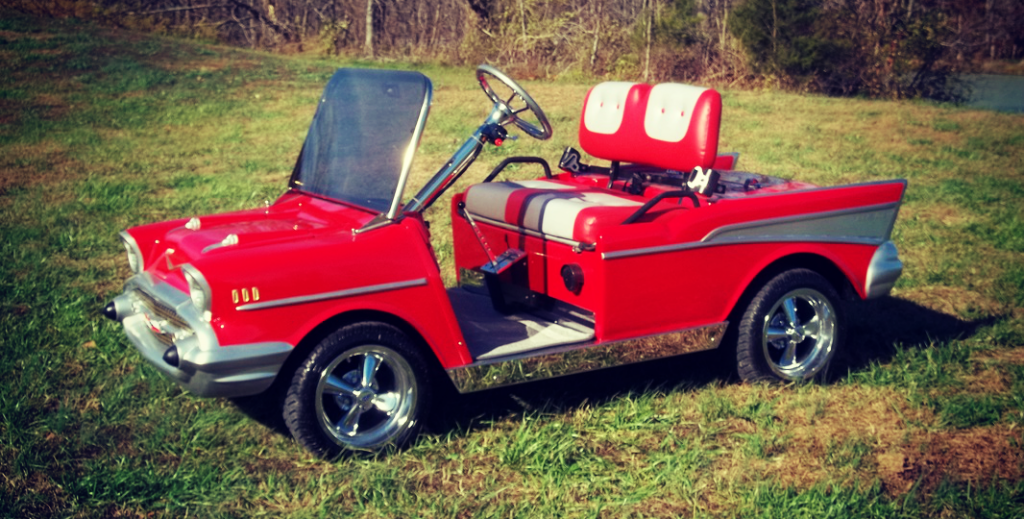 While golf cart owners don't need to go to such extremes, this '57 Chevy Bel Air cart mod is a really nice touch.
People love their golf carts, and not just on the golf course! Without the extra bulk and fuel consumption of a traditional automobile, golf carts are able to fit into niches (and parking lots!) where other four-tired vehicles fear to tread. (see what I did there? :P)
From parking lot shuttles to retirement villages, golf carts have proven their versatility over and over again, so shouldn't we give them the same insurance consideration that we give our other vehicles?
Getting insurance on your golf cart is otherwise fairly simple, but, one caveat remains that seems to mystify most owners…
…making it street legal.
Yes, if you plan to use your cart off of the golf course, your cart must be street legal. Relax. It doesn't have to be a modified, souped-up racing machine, but there are a few requirements it has to meet. Though different states have different requirements for what constitutes street legality–California has four sections devoted to the turn signal alone–most of the basic requirements remain the same across the board.
1) Windshields, windshield wipers and rear view mirrors.
2) Headlights (with high and low beams), reflectors and turn signals.
3) A VIN and license plate from the DMV. View of the license plate cannot be obstructed.
4) If the cart is gas powered, mufflers and exhaust systems should function properly.
5) Seat belts.
6) Front and rear bumpers.
7) Working horn.
If your golf cart passes the basic requirements, you're well on your way to driving around your neighborhood well insured.
However, not everyone is happy with the prospect of golf carts being allowed on public streets. "Golf carts are for golf courses." say opponents, citing the possibility of accidents and injury.
Avid carters, though, insist that on roads with speed limits of 25MPH or less, there should be no issue. In fact, the benefits of less congested commute, easier parking, and less environmental footprint far outweighs any claims of risk.
No matter what side of the fairway you stand on, we'll make sure that your investment is financially well protected.
More Choices™
First Baldwin Insurance
Sources:
blog.lawyers.com
dispatch.com
wikipedia.org