Vicki Walker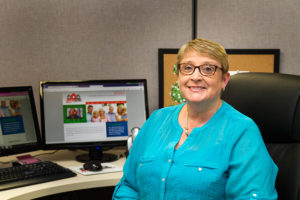 Vicki Walker – Administrative Technicican
With more than 20 years of office administrative experience, Vicki Walker provides support to First Baldwin Insurance and its respective clients. Hers is the friendly voice that answers the phone and the first smile clients and staff see when they walk in the door. Vicki's goal is to ensure the highest level of customer service and satisfaction.
Vicki is originally from Morgantown, West Virginia, where she also attended West Virginia University. Volunteering is a way of life for Vicki. She served as Ambassador for the Susan G. Komen Breast Cancer Foundation. She coordinated the group's annual Rally for the Cure golf tournament fundraising event. She has been a volunteer for Habitat for Humanity, March of Dimes, 1989 PGA Championship and the 1999 U.S. Open.
Vicki resides in Foley with her husband, Jerry, a retired PGA Golf Professional. In Vicki's spare time, she can be found walking Peyton, their 6-year-old Shih Tzu, playing golf, walking on the beach, or enjoying dinner with family and friends.